Canis Latran Writing Contest 2011 - Editors' Award
Each year, the Fine Arts and Communication Department of Weatherford College (a county community college) conducts an event called "Books 'n Authors 'n All That Jazz". It revolves around a day long book fair, where local authors exhibit their books, and which also features a series of seminars and workshops on many aspects of writing. At the 2011 event, Carla exhibited both of her published books.
Photograph by Douglas A. Kerr
Another component of the event is the Canis Latran Writing Contest. (Canis latran is the binary scientific name of the coyote, the "mascot" of Weatherford College.) It accepts short works in the categories of fiction, creative non-fiction, and poetry.

All winning entries are published in an anthology, "Canis Latran", published by the Weatherford College Press.

In this year's competition, Carla received an Editors' Award in Creative Non Fiction for her essay, "Older Women/Younger Men", an autobiographical tale and reflection from her much earlier years ("older" is of course relative). She had originally written it some years ago for a writing class in junior college in Dallas, and polished it up for this year's Canis Latran contest.

Here we see Carla receiving her award at the awards ceremony from Linda Bagwell, Director of Communications and Public Relations for Weatherford College, the mastermind of Books 'N Authors 'N All That Jazz.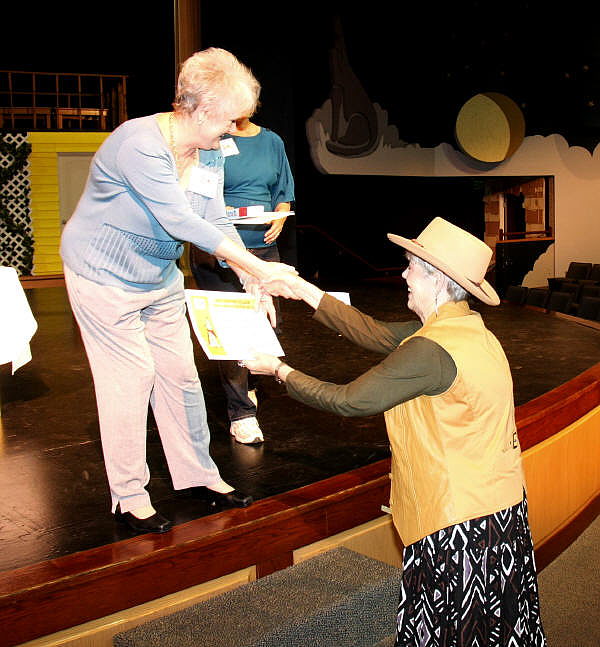 Photograph by Douglas A. Kerr
2013.05.27 1550