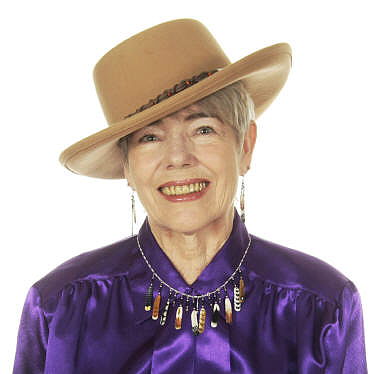 Carla Kerr was born Carla Christine Crittenden in Blackwell, Oklahoma. Her father was of Cherokee Indian heritage, and Carla is 1/16 Cherokee ("1/16 degree of Indian blood", as they say formally) and is a registered member of The Cherokee Nation—a "card carryin' Cherokee".
Over the years, Carla has lived in many states, and attended Las Vegas (Nevada) High school ("when there was only one", she points out.) She has worked at almost every job imaginable, including manicurist; office administrator; cocktail waitress, bartender, and supper club owner; sales of cosmetics and funeral services; and service adviser and sales of new trucks for a major auto dealership.
Her last full-time job before her "retirement" was as Senior Administrative Assistant to the Vice President of Marketing and Brand Management of Meeting Professionals International, the Dallas-based professional organization for professionals in the meeting and convention planning world.
Carla is the founding Queen of the New Mexico Roadrunner Chapter (Alamogordo, New Mexico) of The Red Hat Society, a social order for women over 50. She is an active volunteer with the Cancer Resource Center (Alamogordo), an operation of the American Cancer Society in conjunction with the Gerald Champion Medical Center (Alamogordo).
Carla is the former (founding) Queen Mum of Classic Elegance Red Hatters, a Dallas, Texas chapter of The Red Hat Society, and was later active in the Wild West Women of Weatherford chapter (Weatherford, Texas). She is former Director of Volunteers for For the Love of the Lake, a Dallas conservancy organization devoted to the preservation and enhancement of White Rock Lake and the surrounding park. She is a former member of the Board of Directors of the Parker County Women's and Newcomers' Club, and formerly edited and published their monthly newsletter.
Carla is a former member of the board of Friends of the Weatherford Public Library, an organization that provides support of many types to the library. She was also a volunteer with Freedom House, a Weatherford, Texas agency providing shelter, counseling, and other support to victims of sexual and domestic violence
Carla has three children and numerous grandchildren and great-grandchildren (exactly how many depending on how one chooses to interpret the "dotted lines" on the family organizational chart).
She is a skilled writer in various genres, and an exacting proofreader and copy editor.
Carla and her husband Doug, a retired telecommunication engineer, live in Alamogordo, New Mexico, ("where the desert meets the mountains"), about 90 miles north of El Paso, Texas.
2013.05.27 1510